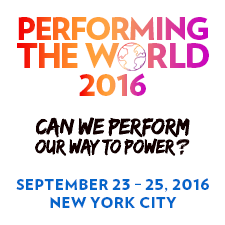 For our final newsletter, we preview two plenary sessions taking place onSaturday, September 24. Each takes a different look at some of the ways people have "come to performance" as a means of engaging social, political and cultural ills and generating personal and communal development and power.
Coming to Performance: Four Origin Stories
Featured are three intellectual pioneers of the performance turn and two young performers from Youth Onstage!, the performance school and youth theatre of the All Stars Project (ASP) in New York City. Shashorna Bailey and Starshima Trent, who came to performance 
through the All Stars and performed last year in the Youth Onstage! production of Antigone (photo by Ronald L. Glassman), will interview Kenneth Gergen, Lois Holzman and Richard Schechner on the trails they have blazed-from theatre, anthropology, psychology and political activism-to understanding performance as a powerful creative force for the human race.

Kenneth Gergen is a social psychologist, professor at Swarthmore College and President of the Taos Institute. He is a major figure in social constructionist and relational views of people, organizations and social change, and a promoter of performative psychology. Lois Holzman is a 
developmental psychologist and director ofthe East Side Institute. With the late Fred Newman, she developed social therapeutics-an approach to human life in which play, performance and group creativity are the engines of development and social-cultural change. Richard Schechner is a founder of the field of 
Performance Studies. He is a Professor at New York University's Tisch School of the Arts, the editor of The Drama Review, and a cutting edge theatre director. His scholarly and theatrical works are studied and performed the world over.
The All Stars Variations

The All Stars Project, co-host of PTW '16 along with the East Side Institute, is a 35-year-old non-profit organization that uses the power of performance to help young people and poor communities develop. This plenary looks at its origins, current practices and some of the programs it is inspiring. T
he session features ASP co-founder Lenora Fulani and ASP President and CEO Gabrielle Kurlander, sharing the ASP's historical roots in community organizing in NYC's poorest communities and bringing us up to 2016-as Fulani leads a conversation with students of the ASP's developmental school UX, on the displacement of the poor in the City and how, despite the worsening conditions of poverty, people can continue to grow and develop.

Adding to the 2016 landscape, Pam Lewis, the All Star's Vice President of Youth Programs and Center for Youth Program Expertise, will lead a discussion among leaders whose youth programs were inspired by the ASP's approach. Hailing from two US cities and three other countries, the speakers are: Jorge Burciaga-Montoya, Co-Founder, El Centro Fred Newman para la Terapia, Cuidad Juárez, Mexico; Chantelle Burley, Co-Founder, All Stars/London, U.K.; Murray Dabby, Director, Atlanta All Stars Talent Show Network, Atlanta Georgia, U.S.A.; Domonique Edwards, Director, Community Play!/All Stars, Greensboro, North Carolina, U.S.A.; and Yuji Moro, Founder, Japan All Stars, Tokyo, Japan. They will discuss their origins, methods, commonalities and differences, and how performance is empowering the young participants in their programs.
*****
Begin your PTW '16 performance 
with some improv! It's the best way to meet strangers and greet old friends.
Friday, September 23 at 10:30 am
.
End PTW '16
 with the performance/reflection of your choosing-conversation, movement, musical improv, storytelling, therapeutics, or visual arts.
Sunday, September 26 at 4:15 pm
.